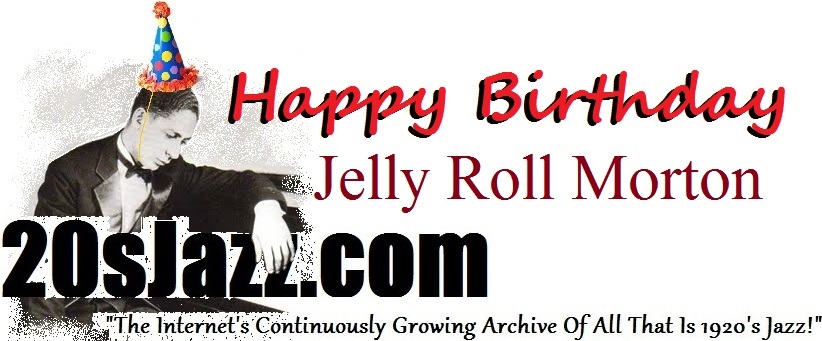 About Us | Contact | Subscribe

Just Because
McMurray's California Thumpers
"Early Saxophone Innovations"
This side was produced in New York City on June 8th 1922 featuring Joseph Colling trumpet, George Crozier trombone, Loren McMurray alto sax, Thomas Swift piano, Matt Grogan banjo, and W E "Jack" Frost bass sax.

*"Just Because You're You (That's Why I Love You)" was composed by Roy Turk and J. Russel Robinson.

"McMurray's California Thumpers" were a contingent of the "Eddie Elkins' Orchestra" under the leadership of Loren (aka "Loring") McMurray.

The "Eddie Elkinsí Orchestra's" normal base of operations was out of the Knickerbocker Hotel in Manhattan but during the Summer seasons of 1921 and '22 they were booked in place of the "Paul Whiteman Orchestra" for a previously arranged obligation in Long Island at a cafe named the "Pavillon Royal".

The "Pavillon" was managed by Sam and Paul Salvin the owners of the Palais Royal where the Whiteman Orchestra held a standing engagement. Whiteman was originally supposed to perform at the Pavillon Royal during the Summer of 1921 while the Palais Royal was being renovated and had a cooling system installed. However as it tuned out the "Paul Whiteman Orchestra" only played the Palais Royal for the month of June and then decided to take July as vacation time, with the "Eddie Elkinsí Orchestra" booked in their place at the Pavillon Royal for the entire Summer.

In a letter written to his Mother and Sister dated "July 4th 1922" Loren McMurray reports his recent activities while in New York including the making of this record.

"Dearest Mother and Sis -

Just finished dinner and will write a little while Opal is washing dishes, we are going down town this afternoon and go to the show. I imagine we will have a big crowd at the Pavilion Royal tonight so will probably have to work hard and late. The records went through on Gennett under the name of "McMurray's California Thumpers" - an odd name isn't it? I will explain the meaning of the word "Thumper." You see that is our favorite by-word at the Pavilion Royal, whenever we get ready to play a number we say lets go thump one, and if we see another musician we say where are you thumping meaning where are you working so as my bunch consists of the Trombone, Cornet, Banjo, Piano and myself from Pavilion Royal, I called it the "Thumpers," besides the people will wonder what it means, we made "Haunting Blues" and "Just Because Your You" and I will send them to you as soon as they come out. I am glad you got a Victrola for now I can send you all the records I make and I will do so at least I will send all the good ones."
---
If you enjoy 20sJazz.com, Please Share us with your Friends. Thanks!
---
For more Early Recorded Jazz videos, click here
See the complete catalog of
20's jazz videos