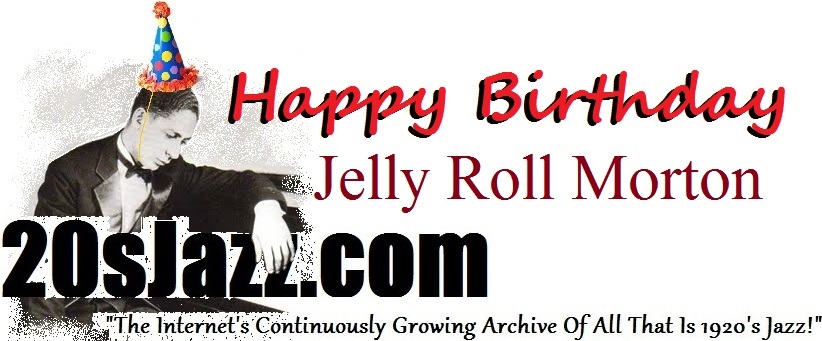 About Us | Contact | Subscribe

Who'll Get It When I'm Gone?
Mary Jackson acc. by
Perry Bradford's Jazz Phools
Feat. Perry Bradford
This recording was cut in New York City during October of 1923 featuring Mary Jackson vocals, accompanied by "Perry Bradford's Jazz Phools" a group under the direction of Perry Bradford consisting of Unknown trumpet, trombone, clarinet, & piano.

*"Who'll Get It When I'm Gone?" was written and composed by Perry Bradford.

Pianist and singer, Perry Bradford toured Southern theater circuits in the years between 1908 and 1919 as half of the song and dance duo "Bradford & Jeanette". While he was in New York in 1919, Bradford convinced Okeh Records' musical director Fred Hager to record Mamie Smith, making her the very first African-American blues singer to appear on record. Mamie had starred in Bradford's original musical production "Made in Harlem" the previous year.

Although this band's regular members were well documented the personnel for this particular session date remain unknown. The trumpet player cannot be Gus Aiken because he was in Cuba until late December 1923 and although Johnny Dunn may have been back from England at the time judging by the style it's certainly not him. The trumpeter here plays in much more of a Western style and is reminiscent of Tommy Ladnier for his use of wide vibrato and a mute. With both Gus' brother Bud Aiken and Herb Flemming already ruled out, the "Unknown" trombone is a very tasteful player with wonderful execution and tone who performs in a legato style with high interval jumps. The mystery clarinetist, on the other hand, displays elements of the fashionable reed style of the period as executed by Ernest Elliott or Bob Fuller, but far more proficient and musically sound (no "gas-pipe" here). The piano player has a blues influenced style which incorporates a rolling bass at times, similar to that of Jimmy Blythe and his 'Windy City' contemporaries. In conclusion these long forgotten undocumented musicians were more than likely from Chicago recruited for this recording session out of a touring band from out West.

-Matt Chauvin
Founder & Curator
of 20sJazz.com

(This one's for you Henry Davis. We were both wrong!)
---
If you enjoy 20sJazz.com, Please Share us with your Friends. Thanks!
---
For more Singers videos, click here
See the complete catalog of
20's jazz videos