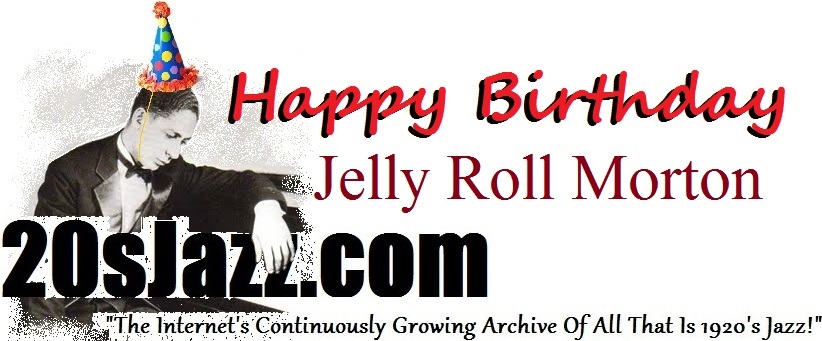 About Us | Contact | Subscribe

Buddy Bolden's Blues
Jelly Roll Morton
Charles Joseph "Buddy" Bolden
(September 6th 1877 - November 4th 1931)
This record was produced in New York City on December 16th 1939 featuring Sidney de Paris trumpet, Claude Jones trombone, Sidney Bechet soprano sax, Happy Caldwell tenor sax, Jelly Roll Morton piano & vocals, Lawrence Lucie guitar, Wellman Braud string bass, Zutty Singleton drums.

*"Buddy Bolden's Blues" is Buddy Bolden's only surviving composition.

Born in September 1877 in New Orleans, Charles Joseph "Buddy" Bolden was a cornet player who is credited with the development of a style of ragtime that would come to be known as jazz.

Buddy Bolden formed his band in 1895 and by 1900 had become a something of a local folk hero praised by everyone for his innovative blues favoring improvisations.

Lavishly dressed and escorted by a group of beautiful women, one of whom carried his horn, "King" Bolden would arrive to play for dances at a variety of locations throughout New Orleans.

The song "Buddy Bolden's Blues" (aka "Funky Butt") was a theme song which Bolden often played to announce himself at the beginning of a performance.

One establishment in particularly the Union Sons Hall, dubbed the "Funky Butt Hall" in his honor, served as a home base for his musical activities.

The toughest of all the places he frequented, dances at the rough-and-tumble club lasted until morning.

After his seven year reign as the most popular entertainer in the city of New Orleans between 1900 and 1907, Bolden suffered an episode of acute alcoholic psychosis at the age of thirty.

Later diagnosed with schizophrenia he was admitted to the Louisiana State Insane Asylum at Jackson, where he remained for the rest of his life. Creator and true king of jazz, Charles "Buddy" Bolden passed away on November 4th 1931 in complete obscurity.

Though credited as the man who developed the highly improvisational style of ragtime known as jazz today, Buddy Bolden was never presented with the opportunity to be recorded. -For this reason we can only speculate as to how he might have sounded.
---
If you enjoy 20sJazz.com, Please Share us with your Friends. Thanks!
---
For more Jelly Roll Morton videos, click here
See the complete catalog of
20's jazz videos