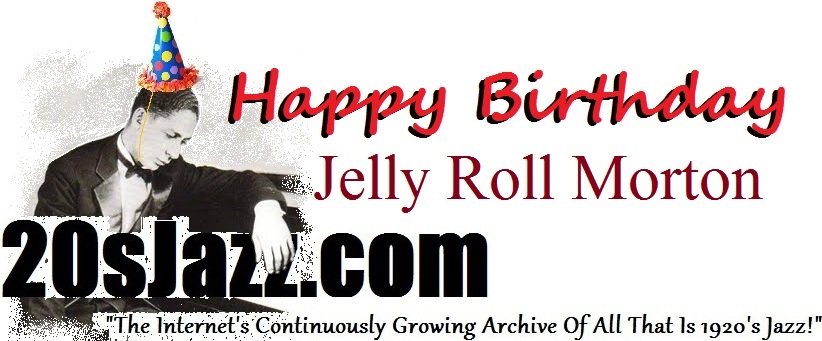 About Us | Contact | Subscribe

St. Louis Blues
W.C. Handy's
Memphis Blues Band
William Christopher Handy
(November 16th 1873 - March 28th 1958)
Recorded in New York City during January of 1922 featuring W C Handy cornet & director, Johnny Dunn cornet, George Williams trombone, James Osborne and Robert Young clarinet, alto, & tenor sax, Paul Wyer, Edward Wyer, and Jim Turner violins, George Higgans guitar, Ike Hatch banjo, Bobby Lee piano, and Sy Moore drums.

*"St. Louis Blues" was composed by W.C. Handy.

It should be noted that another Handy composition "Ole Miss Rag" is interpolated into the last quarter of this side (as an incidental chorus) in the "medley" style of that era. "Ole Miss" of course has also been used as a second strain to many recordings of "Bugle Call Rag" (aka "Bugle Blues") -Dan Weinstein

Remembered as "Father of the Blues", William Christopher Handy was a cornetist and bandleader born in Florence, Alabama in 1873 whose widely celebrated compositions developed the standard blues form. Inspired by African American folk music which he transcribed during his various travels throughout the rural South, Handy organized band arrangements drawing on their melodies and verse.

W.C. Handy played cornet at the 1893 Chicago World's Fair a highlight of his early career before taking a job as the band director of "Mahara's Colored Minstrels" for a three year tour of the Southern U.S. and Cuba.

A true scholar, he successfully set out to study and capture the musical spirit of black America in a popular contemporary format.

Reflecting upon the 1914 debut of his original composition "St Louis Blues" Handy stated: "The one-step and other dances had been done to the tempo of "Memphis Blues" ... When "St Louis Blues" was written the tango was in vogue. I tricked the dancers by arranging a tango introduction, breaking abruptly into a low-down blues. My eyes swept the floor anxiously, then suddenly I saw lightning strike. The dancers seemed electrified. Something within them came suddenly to life. An instinct that wanted so much to live, to fling its arms to spread joy, took them by the heels".
---
If you enjoy 20sJazz.com, Please Share us with your Friends. Thanks!
---
For more W.C. Handy videos, click here
See the complete catalog of
20's jazz videos